our-story-inner-page-header
The SUJÁN Story
Forty-six years ago our family fell in love with a land where the tiger roamed; Ranthambhore. That deep love and commitment has endured, grown and blossomed. Two generations thereafter have continued to love, respect and give their everything to protect this extraordinary force of nature at her best. We are committed to offering the very best hospitality in some of the world's most unique destinations. Our experiences are the living expression of a place, its history, environment and culture. We draw inspiration from our entrepreneurial tradition that goes back 130 years, a fundamental family ethic that endures to this day; a legacy that salutes the power of partnership and celebrates the joys of living. SUJÁN derives its name from Jaisal's great- great-grandfather, Sardar Bahadur Sujan Singh of Hadali, whose ancestors served as generals and commanders in the Sikh armies in the 17th centuries. In 1881, he founded SUJÁN Enterprises, a company that diversified into a range of activities that included trading, and business in oil, cotton and real-estate development under the aegis of Messrs Sujan Singh – Sobha Singh.

Our ancestors, played a significant role in the setting up of the Coronation Durbar of King George V and Queen Mary. Sir Sobha Singh worked closely with Sir Edwin Lutyens and Herbert Baker to construct the new capital of India in 1911. Enterprise, creativity, and a commitment to perfection, have been the guiding principles of our family work ethic ever since.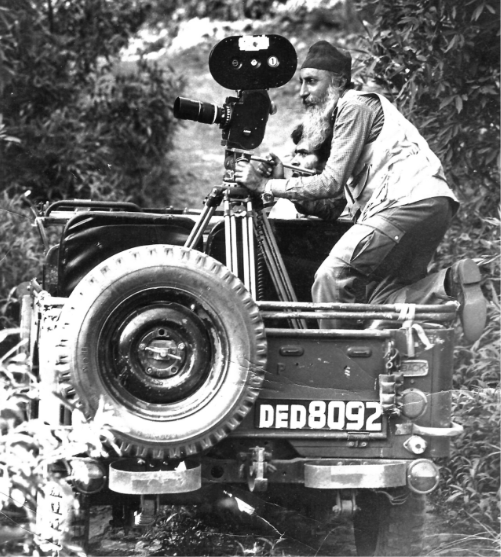 Tejbir Singh filming in Ranthambhore Jaisal's father, Tejbir, a graduate from the Fletcher School of Law and Diplomacy at Tufts University, is largely responsible for igniting the passion for wildlife and the documenting of India's wild spaces within our family. With his wife, Malvika, they founded Nigaar Film Workshop, in the early 1970s. They explored Rajasthan, unknown to them at the time, that the journey would culminate in a continued commitment to the state, one that still continues to this day. In 1974, when Tejbir and Malvika followed a narrow, winding road it led them to the base of the ancient fort of Ranthambhore. Guided solely by a dim, distant flicker of a lamp burning at the ancient Mughal Palace, Jogi Mahal, they were welcomed by the formidable moustachioed Fateh Singh Rathore, the legendary Director of the Reserve at the time. They pitched their two-roomed tent under Jogi Mahal's famous Banyan tree, against the dramatic backdrop of the high ramparts, awaking the next morning to find the pug marks of a tiger all around their fragile bedroom. Weeks of adventures and filming followed and resulted in the creation 'Jungles of Rajasthan'.This film was among the first documentaries by an Indian film company to record India's wildlife on camera. Those were times when filming wildlife, let alone a tiger in the wild, was rare in India.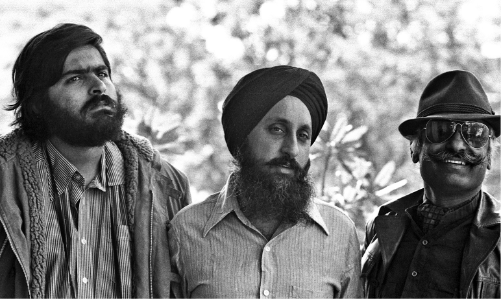 Valmik Thapar, Tejbir Singh, Fateh Singh Rathore Malvika's brother, Valmik, soon followed the family to Ranthambhore, and the forest became their home away from home; to film, study, record, learn about the mysteries of the wild and to unwind with friends. In the winter of 1979 Jaisal, Tejbir & Malvika's son, was first carried to Ranthambhore, aged just eight weeks old, and although he does not remember anything of that visit, he did see his first tiger! The same year, Ranthambhore was named a National Park by the then Prime Minister Indira Gandhi. The Park received very few visitors in those early days, and it was here in the jungle that Jaisal and his passion for nature was instilled in his being.
Jaisal Singh in Ranthambhore While Tejbir and Malvika were busy shooting their films, which included the first portraits of tigers (Ghenghis the male) hunting prey in water, Jaisal grew up under the shade of Jogi Mahal's Banyan tree — its spread doubled up as the family dining room and sleeping space—with the denizens of Ranthambhore's forests around him. The scents and sounds of the jungle became familiar boyhood companions and soon he was examining animal kills and trails expertly. His bush craft skills were taught to him by the trio of Fateh, his father Tejbir and uncle Valmik. In 1988, spearheaded by Valmik, and with some like-minded friends, including Jaisal's parents, The Ranthambhore Foundation was founded. It's mission was to preserve Ranthambhore, through active 'community conservation'. Around the same time the family bought farmland in the area. The Foundation launched a primary health care initiative that encompassed and serviced ninety-six villages around the park; an afforestation project; a village relocation programme, a dairy development scheme to encourage stall-feeding of cattle to reduce the pressure of grazing in the park; the promotion of alternative energy and many interventions. All this to endorse the interplay of man and the national environment. Today, many of these conservation practices are visible across the SUJÁN portfolio.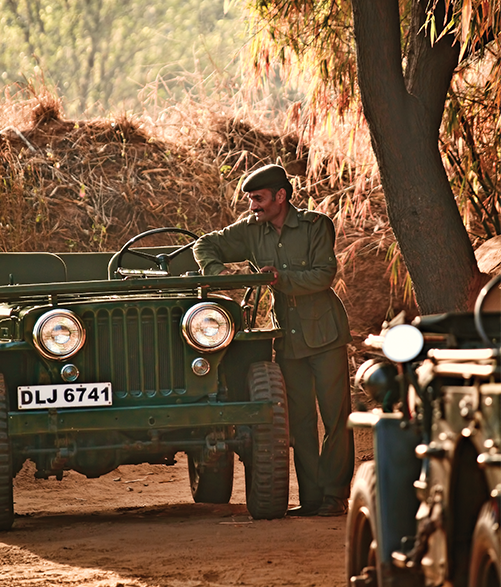 SUJÁN Sher Bagh, RanthambhoreHaving spent his childhood in the jungle, it was only natural that Jaisal commit his life to wildlife and conservation. Building on his grandfathers legacy, his personal SUJÁN story began in 2000, when he built Sher Bagh, pitched within the family's private farm on the periphery of what is now, the Ranthambhore Tiger Reserve. Within a year, SUJÁN Sher Bagh was listed among the 'Top 100 hotels in the World' by Tatler Magazine and awarded The British Guild of Travel Writers Silver Otter Award for Best Overseas Tourism Project, given to a hotel that is eco-friendly and one that benefits the local community. Jaisal's marriage to Anjali Anand, an accomplished artist and entrepreneur, wedded his passion for wildlife with her fine aesthetic sense, her creativity and strong business instincts.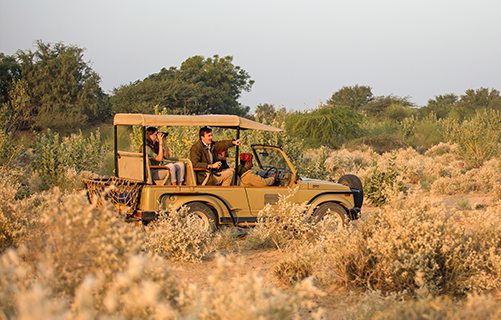 SUJÁN The Serai, Jaisalmer SUJÁN The Serai, Jaisalmer, was the culmination of this partnership and opened its doors to receive guests in 2008. The songs recorded by Malvika and Tejbir Singh, nearly forty years earlier for their first film, have been revived at The Serai and a new generation of Manganiyar bards now sing for our guests. Anjali and Jaisal's passion for wildlife, their desire for perfection and discerning eye soon led to a venture beyond Indian shores. In 2011, along with the Cheli family,they forged a partnership of conservation across continents, sharing their expertise and endorsing their love of Africa, a favourite family destination. The allure of that ancient continent led the SUJÁN family to invest in their first African venture in Kenya, The Elephant Pepper Camp in the North Mara Conservancy, now managed and run by Elewana Collection.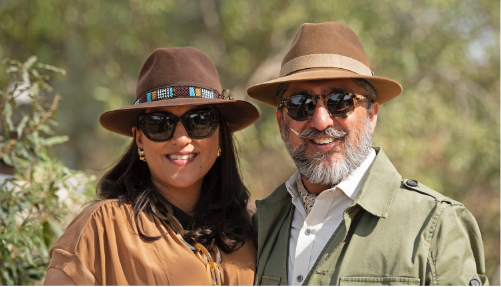 Jaisal & Anjali in KenyaIn 2013, Anjali & Jaisal opened a unique destination hidden in the stunning rural landscape of Jawai in the Pali district of Rajasthan. A pioneering conservation tourism project SUJÁN JAWAI, has been widely acclaimed as one of the world's most unique and impactful wilderness destinations. SUJÁN's expansion continued and two years later, Rajmahal Palace opened in Jaipur. The Jaipur Royal Family entrusted Anjali and Jaisal with the management of their private – and Jaipur's oldest – Palace.

Jaisal, Anjali, Sujan and Amrit at SUJÁN JAWAI